European Competition Network (ECN)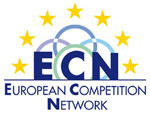 The European Commission and national competition authorities of the EU Member States cooperate together within the European Competition Network (ECN). ECN has created an effective mechanism for coordination of competition policy of the EU Member States and establishment of an effective legal framework for the application of the Article 101 (agreements restricting competition) and Article 102 (abuse of dominant position) of the TFEU. The Office became an integral part of this forum, the role and aim of which is to establish a specific basis for developing and maintaining common competition culture in Europe.
In addition to mechanisms governing formal procedures of decentralized application of European competition rules, within ECN there are working groups of experts in specific areas (e.g. financial services, energy, IT and communication technologies, health services, telecommunications, environment, food, professional services, pharmaceuticals, media, railways,…). Experts attending working groups discuss competition issues and promote a common approach. This way, the ECN allows the competition authorities to pool their experience and identify best practices for competition protection. The Office´s employees are actively involved in the work of working groups and present the opinions and positions of the Slovak Republic.
For more information see:
http://ec.europa.eu/competition/ecn/
ECN Brief
Prílohy na stiahnutie